Event Details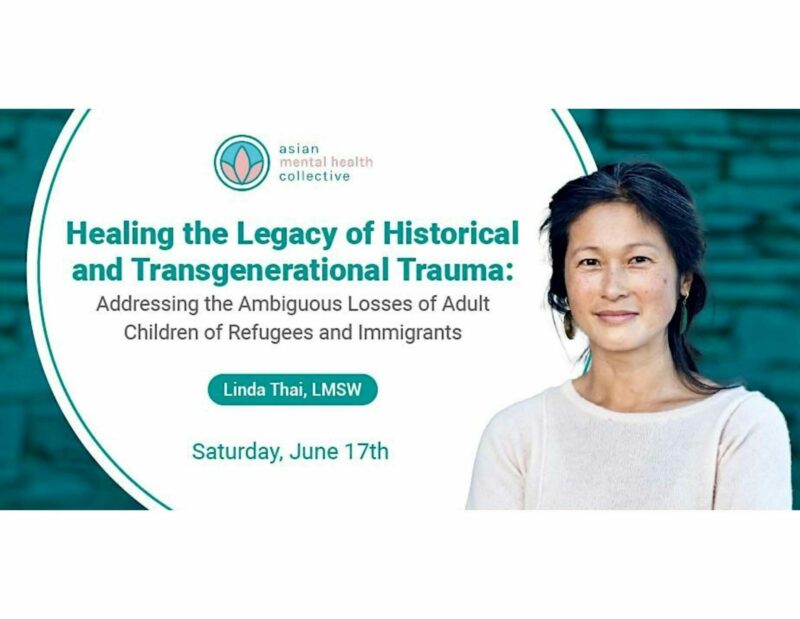 June 17th, 2023 - 12:00am - 12:00am
Learn More

→
The Asian Mental Health Collective is hosting me to present, Healing the Legacy of Historical and Transgenerational Trauma. I would love for you to join me for this all day event on June 17th from 12:00 - 6:00pm ET.
----
Saturday, June 17th | 12-6 pm ET // 9-3pm PT
Children of refugees and former child refugees experience unique challenges in adulthood that are often under-recognized and overlooked by mental health professionals. Join Linda Thai as she weaves together stories and research to bring to light the intergenerational impact of forced migration.
Forty to fifty per cent of refugees are children. Children's brains are very neuroplastic, and as a result, young refugees often quickly assimilate to their host nation, leading to challenges in adulthood that are often easily overlooked - or even pathologized - by many mental health professionals.
This larger landscape of traumatic grief, traumatic loss, traumatic homesickness and the ambiguity of these unnameable, unmetabolized experiences has a transgenerational impact that needs to be named in order to be healed.