Event Details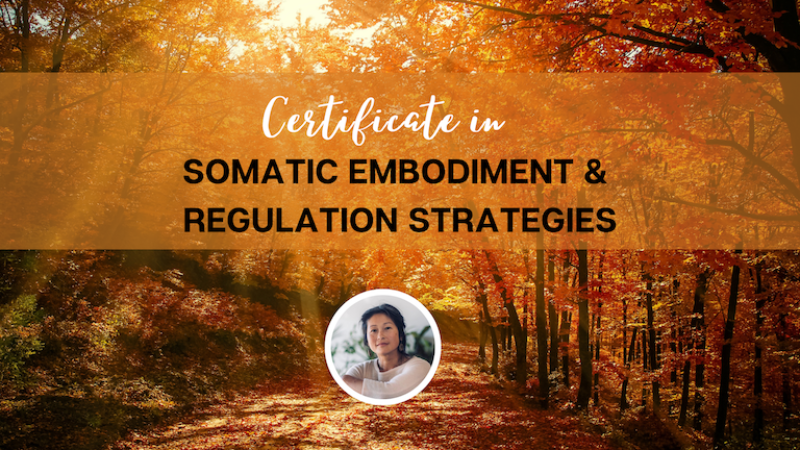 September 20th - 6th, 2022
Learn More

→
7PM ET - 8PM ET (US Eastern Standard Time)
Time Zone Converter

Level I: Sept 20th, Sept 27th, Oct 4th, Oct 11th
Level II: Oct 18th, Oct 25th, Nov 1st, Nov 8th
Level III: Nov 15th, Nov 22nd, Nov 29th, Dec 6th

Continuing Education Credits
Live and Home Study CEs: Yoga Alliance (YACEP), Licensed Massage Therapists (NCBTMB) & NY LMTs
Pending Approval Continuing Education Credits:
Live and Home Study CEs: Psychologists (APA), Social Workers (ASWB), Nurses (ANCC)

Experiencing trauma can cause us to respond by entering into a state of survival. Even after the traumatic event or events have ended, we may find that the actions of truncated survival become integrated into the nervous system and can lead to long-term side effects on the body. Eventually, the strategies that kept us alive can keep us from fully living.
In this three part, 12-session certification course, you will learn to recognize and safely resource the tension patterns of these survival responses. This course provides strategies for managing the nervous system that can help us deal with anxiety, overthinking, emotional flooding, and being overwhelmed.
As we develop an understanding of how to regulate the nervous system through various strategies, new choices become available for the neuro-muscular system, which can allow us to cultivate self-awareness around past behaviors, thoughts, and emotions. This gives us the opportunity to bring the nervous system's functionality back online so we can fully embrace life.

WHAT YOU WILL LEARN
This program will focus on how the cascade of activation and immobilization, which is designed to help us survive overwhelming experiences, can be addressed to facilitate enhanced quality of life. Strategies will emphasize bottom-up self-regulation, co-regulation, expanded window of tolerance, and interoceptive awareness. Resourcing techniques will be practiced to facilitate bridging the gap between external safety and internal safeness.